About Dr. Chesten Cantrell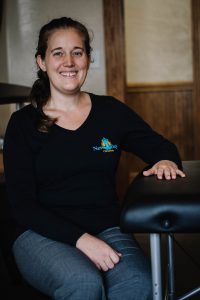 Dr. Cantrell graduated from Franklin County High School in 2005 as a member of the National Honor Society. Dr. Cantrell received her Associate in General Studies in 2007 from Virginia Western Community College and her Bachelor's in Biology in 2010 from Hollins University.
Dr. Cantrell did not come from a holistic background. Even with that, she always knew she wanted to help people live a better quality of life. She also wanted to empower people with the knowledge that they had some control over their health and well-being.
Dr. Cantrell was introduced to chiropractic when she was in her early twenties. When she first went to the chiropractor, she had a history of knee pain and shoulder pain. She also suffered from chronic sinus and respiratory infections at least four times a year.
After receiving chiropractic care, Dr. Cantrell noticed she no longer experienced pain in her knees or shoulders. She also noticed the number of sinus and respiratory infections she had decreased significantly and eventually stopped altogether. Dr. Cantrell also felt an increase in her energy levels and felt better overall under chiropractic care. It motivated her to attend chiropractic school in 2010 after attaining her Bachelor's. Dr. Cantrell went to Life University in Marietta, Georgia where she graduated in 2013 Cum Laude with a Doctor of Chiropractic.
Dr. Cantrell has had the opportunity to work in many different types of chiropractic offices in Georgia, New York, and Virginia before returning to Rocky Mount, Franklin County, Virginia to open her business in April 2016, New Day Chiropractic.
Dr. Cantrell is a certified Reiki Master and 13th Octave LaHoChi Practitioner. She has also attended multiple energy work seminars. Dr. Cantrell does believe there is some truth to the mind playing a key role in a person's health. Even with her science background, Dr. Cantrell tries to remain open-minded to the possibilities of the world around us. Knowledge as we know it is constantly changing.
In 2022, Dr. Cantrell graduated from Daniel's Institute of Massage in Roanoke, Virginia and became a licensed massage therapist.